SERIES: XO Series F.R.L
XOL(Lubricator)
FEATURES
The direct constant-density lubricator add regulatd quantity oil to the compressed air.A valve maintains oil mist content proportional to the compressed oil flow.
The pressure drop that occurs when the air flow through a sight feed oil cup delives oil fnom the bowl to the sight oil indicator.The drop of the oil flows into the air channel when it is atomized.
The oil drip rate is controlled by means of the regulating screw.Normally,1 to 12 drops/1000L of the air is sufficient.
Ordering Code

Specification
Lubricators

MINI

MIDI

MAXI




XOL-1/8-MINI

XOL-1/4-MINI
XOL-3/8-MINI
XOL-3/8-MIDI
XOL-1/2-MIDI
XOL-3/4-MIDI
XOL-3/4-MAXI
XOL-1-MAXI
Medium
Compressed air
Features of structure
Sintered filter with water spartor The direct Constant-density Lubricator
Mounting type
Pipe mounting or foot mounting
Assembly position
Vertical±5°
Connection
G1/8"
G1/4"
G3/8"
G3/8"
G1/2"
G3/4"
G3/4"
G1"
Standard nominal flow rate
1300
2300
2700
5500
6100
6300
8400
9000
Max.Working pressure
16bar
Min.Standard nominal flow rate
3L/min
6L/min
10L/min
Max.condensate capacity
22ml
Timperature range
0~60℃
Materials information
Housing:Zinc die-casting;Oil bowl and Drip cap :PC;Metal bowl guard:Aluminium alloy;Sealing:NBR
Recommended oil
ISO VG 32 or the same grade
Overall Dimensions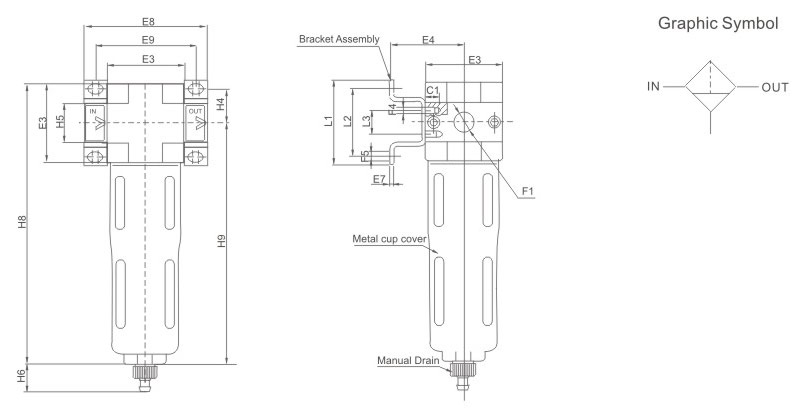 | | | | | | | | | | | | | |
| --- | --- | --- | --- | --- | --- | --- | --- | --- | --- | --- | --- | --- |
| Model | E3 | E4 | E7 | F1 | F4 | F5Φ | L1 | L2 | L3 | H2 | H4 | L5 |
| XOL-...-MINI | 40 | 39 | 2 | G1/8",G1/4",G3/8" | M4 | 4.5 | 44 | 35 | 11 | 169 | 17.5 | 20 |
| XOL-...-MIDI | 55 | 47 | 3 | G1/8",G1/2",G3/4" | M5 | 5.5 | 71 | 60 | 22 | 206 | 30 | 32 |
| XOL-...-MAXI | 66 | 53 | 3 | G3/4",G1" | M5 | 5.5 | 71 | 60 | 22 | 226 | 30 | 32,40 |
Other info